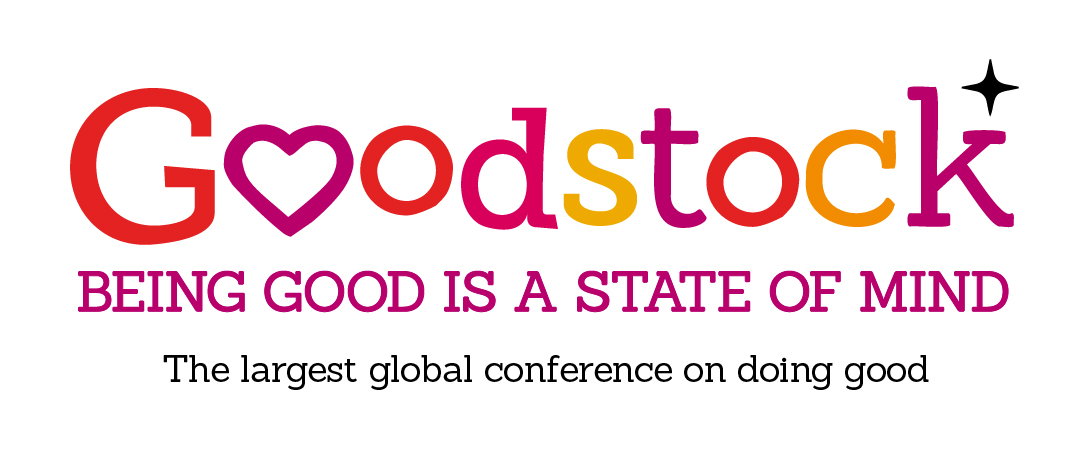 GOODSTOCK was a free virtual and global event in which we demonstrated, through plenaries, panels, exhibits, and talks, that doing good deeds and being a good person is always possible regardless of circumstance or place. Read on to see the highlights of the day!
Goodstock in numbers
-6,000 participants
– 93 countries
– 66 speakers
– 24 panels
– 5 languages
– 71 exhibits
How did the idea behind Goodstock come about?
One of the pillars on which Good Deeds Day is based is that Doing Good is possible not only when volunteering but also in every moment and aspect of life. Following this idea, we organize activities every year to encourage more people to make good deeds a part of their daily lives. However, these activities have until now tended to be regionally concentrated, working only with the specific situations of each continent.
Following the globalization brought about by the pandemic, and new ways of communicating, we saw the possibility of putting together an international event and decided to bring together our entire global network in a single event. We then invited experts and leaders from various sectors of society to share their experiences and show how it is possible to Do Good in their respective fields. That is how Goodstock, the largest virtual conference on Doing Good, was born.
Goodstock speakers
As already mentioned, the idea was to present ways to always be good [persons] in all situations. We then invited speakers from different sectors to show us how they do good in their respective fields. A total of 66 speakers, from educators, politicians, businessmen, entrepreneurs, psychologists, philosophers to religious leaders, attended the event.
World-renowned speakers included Justin Rockefeller, Owen Fitzpatrick, Peter Singer, Dyala Jiménez, Nicola Mitchell, Arik Zeevi, and Ahmed Talib Al Shamsi. Shari, David, and Jason Arison also participated in the event. To see the full list of speakers, click here.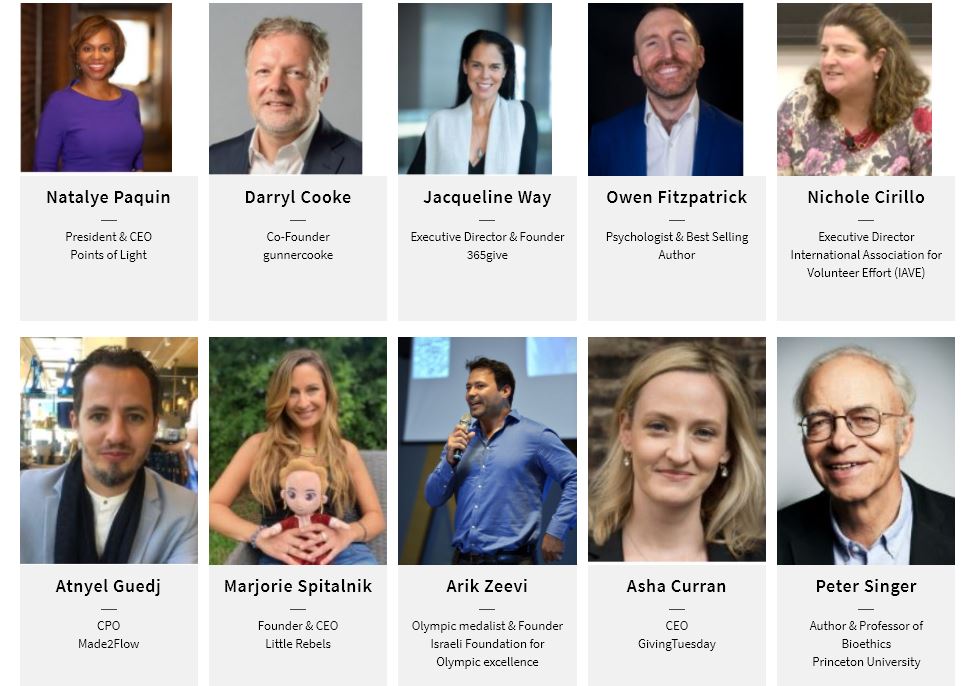 Goodstock exhibits, and the Goodstock community
When we planned Goodstock, we were sure that we did not want a purely contemplative event. We wanted an event where everyone could actively participate. Thus, the Goodstock platform had two sections: one dedicated to the exhibitions, the other to the community.
The Goodstock exhibition featured 71 virtual booths from our partners around the world, where they presented their backgrounds, current work, social networks, and a collection of photos and videos. Anyone interested in learning more about a booth could log in and leave their contact information.
The Goodstock community was one of the most used resources during the conference. When registering, each participant listed their interests, knowledge, and what they were looking for in a partnership. Then, in the community section, each person could check the other participants, exchange contact data, and request meetings with them.
Both sections, as valuable tools, were available several days before the event, as we wanted them to be used to their full potential for more than just one day.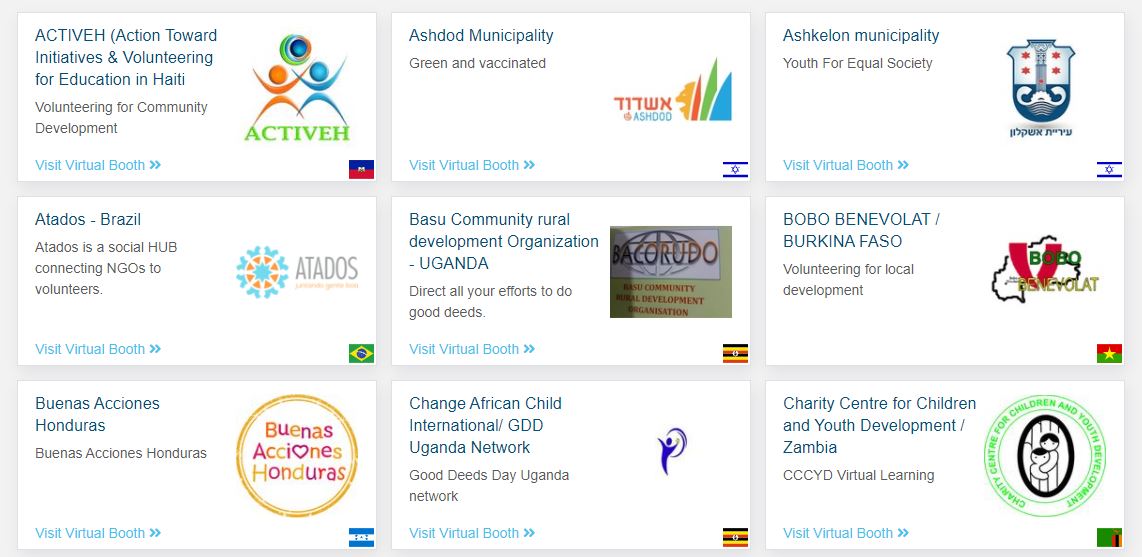 Goodstock plenary sessions
Out of a total of 24 presentations, 9 were central plenary sessions, 15 short sessions, and 1 a general summary to conclude. The 9 plenaries were grouped into three blocks, with three discussions each. The other sessions were also divided into three blocks, allowing attendees to tune in to any talk they wished. Plenary and parallel session blocks alternated throughout the day. All plenary sessions were in English (with subtitles in Spanish, French, Hebrew, and Arabic). Parallel sessions took place in different languages.
The first plenary block, which kicked off the event, began with an exclusive interview with Shari Arison, the entrepreneur, and philanthropist who created Good Deeds Day. Shari admitted that unity is the greatest achievement of this movement. She also made us reflect on how 15 years ago people were not seen talking about the good things, and that today positive stories are in the news, and always around us.
See Shari Arison's full interview here:
Next, Jacqueline Way, Orly Wahba, and Gary Dixon had an interesting conversation about how small actions can impact the world thanks to the ripple effect. All three speakers agreed that change starts with oneself, being kind, and considering small gestures.
To end the first block, renowned Irish psychologist Owen Fitzpatrick joined content creator Ruth Rudner, and they discussed how to be good to ourselves. Both Owen and Ruth gave their tips on how to better organize personal time and agreed that we should not believe everything we see on social media.

Click below to watch the full plenary.
The second block of plenary sessions also consisted of three talks. The first focused on stories of self-improvement, the second on education, and the third on business.
At the beginning of the block, Arik Zeevi, an Israeli Olympic medalist, and Ni'cola Mitchell, an activist, and writer from the United States, discovered that their stories have many things in common. They were both able to succeed thanks to coincidences and opportunities that came their way. Therefore, they both work to give opportunities to underprivileged children so they can choose their future.
Following this talk, Ahmed Talib Al Shamsi, CEO of Emirates Foundation (UAE), Kiran Bir Sethi, founder of Design for Change (India), and Adi Altschuler, founder of various inclusion projects in Israel, discussed the ways [and how] the education system should be. All three agreed that there is no manual to follow and that it is a difficult job that must be done day by day, understanding the needs and fighting for change. Throughout their talk, the speakers discussed the importance of teaching values along with the school content.
The third session of this block was led by David Arison, and Justin Rockefeller, both from leading global business families. They discussed and agreed that their work is based on being able to match income with social impact, demonstrating that doing business can be used as a source of good. In their talk, they told us about The Impact, an organization that brings together philanthropic families who share the idea that everything is connected in business. This would include values and investment, and thanks to their meetings, many initiatives on how to do good in business were born.
Click below to watch the full plenary.
The third and final block of plenary sessions focused on the public and third sectors and ended with one on meditation and inner peace.
Representing the public sector were Dyala Jiménez, former Minister of Foreign Trade of Costa Rica, Jokate Urban Mwegelo, District Commissioner of Kisarawe District, Tanzania, and Omer Hungar of the Municipality of Ashdod, Israel. All three speakers emphasized the need to connect government people with those they represent, and each spoke of the best way to do so. They also presented ways of working to provide opportunities and unite the community with the most marginalized sectors of society.
The plenary on the third sector was led by four powerful and inspiring women, each representing other volunteer networks: Natalye Paquin (Points of Light), Nichole Cirillo (IAVE), Jacqueline Innocent (Habitat for Humanity), and Asha Curren (GivingTuesday). This session was truly inspiring, seeing how these four women leaders not only represent [respective] networks but also form a network of their own, supporting and learning from each other. At the end of this session, they discussed volunteering in times of pandemic, and ways in which we can continue doing so.
The last plenary of this block was a conversation between Gazza Solidago, belonging to the Federation of Spiritual Communities (Italy), and Gayatri Naraine, Brahma Kumaris' representative to the UN (India). These two women presented their methodologies to focus on the good and connect with the spirituality each person carries.
Click below to watch the full plenary.
Our special selection
It is impossible to write about the 15 parallel sessions that took place in just one article. They are as diverse as they are interesting, so here are some selected especially for this blog. Most of these sessions are in English only, but they are short and easy to listen to!
1. Changing the world through sports:
No one can doubt the popularity of sports and the passion they arouse, especially when it comes to soccer. In this session, Vladimir Borkovic, Co-Founder of Streetfootballworld, and Hubert Rovers, CEO of European Football for Development Network, talk about how they help vulnerable communities through sport.
2. The future of corporate social responsibility:
Three people in charge of this area in different companies, two from Israel and one from Mexico, tell us about the initiatives they are currently engaged in, and how they choose the right projects for each sector, employee, and time of the year. They also talk about how COVID-19 affected their plans for the present and future.
3. Helping others through difficult times:
Liane Sela, from Israel, and Ligia Bobadilla Mata, from Costa Rica, share their work on how to improve the situation of those facing hardship. For both, providing a sense of belonging is fundamental to succeed in their efforts. Listening to their stories and motivations will undoubtedly inspire you to contribute from your location, and perhaps even create your own project.
Missed a session? Want to re-watch one you loved? No worries – all conference sessions are available on our YouTube channel in English, Spanish, Hebrew, French, and Arabic. 
Thank you to all those who attended Goodstock: Being Good Is a State of Mind, the largest global conference on doing good! Together we have shared our ideas, connected, and have marked the next milestones. We are inspired by all the good you do, your support, dedication, and all the efforts you have contributed.
Scroll Down
TAKE PART IN GOOD DEEDS DAY
Skip to content