Good Deeds Day in Moldova has been organized since 2016. RVC is the official represantative of GDD in Moldova. Registration for the event is divided into two types: registration for volunteers – those who want to volunteer through RVC as a person, and registration for organizations who wishes to take part in Good Deeds Day, to organize a volunteer action. For our volunteer center, Good Deeds Day is not only an event aimed at promoting the culture of volunteering in the country, but also a good opportunity that helps us maintain our image. Good Deeds Day in Moldova is one of the most anticipated events of the year for all commercial and non-commercial organizations. For 7 years, we have managed to increase the number of participants and involved organizations. More than 200 partners have supported Good Deeds Day and more than 10000 volunteers have been a part of this movement in 75 settlements of Moldova. The following link provides updated information about GDD Moldova: https://rvc.md/den-dobryh-del-2022/
Country Committee
Republic of Moldova
Iulia Barbaneagra

i.barbaneagra@rvc.md

Manager - Volunteer Center RVC GDD leader of Moldova, logistics

Nicolai Railean

n.railean@kedem.md

CEO — Volunteer Center RVC GDD committee director, sponsorship and development

Nichita Perunov

haverim@kedem.md

Manager — Youth Platform Haverim GDD committee member, PR and Communications

Alexandra Frecautsan

a.frecautsan@rvc.md

Coordinator - Volunteer Center RVC GDD committee member, partnership
MAIN ISSUES
The projects that Moldova is implementing are mainly aimed at working with socially sensitive areas and improving the environment and urban infrastructure. Several problems occur within vulnerable groups, ecology, and infrastructure. Due to the fact that Moldova is not a rich country, people go abroad to work, the elderly and children are left alone, and therefore at-risk groups exist in all age categories such as the elderly, middle-aged, and children.
The overcrowding of hospitals and the lack of resources also is an issue. The medical environment lacks modern technologies and timely treatment, therefore, volunteer actions are placed in hospitals.
read more
SDG Focus
FEATURED PROJECT
From February till May, 2022 140 RVC volunteers have been supporting refugees from Ukraine in 6 different directions: some take part in the rapid response group, some become call-center volunteers, etc. Thanks to our Good Deeds Day partners, the RVC team hosted an educational incentive event for those who were close by during the crisis! As part of the event, active volunteers received souvenirs from GDD, RVC and JDC Kishinev, in which we personally wrote to each of them the number of hours that the volunteer devoted to helping refugees. In a pleasant atmosphere we held two educational meetings with RVC psychologists on the topic "Witness Trauma" and "Inner Peace".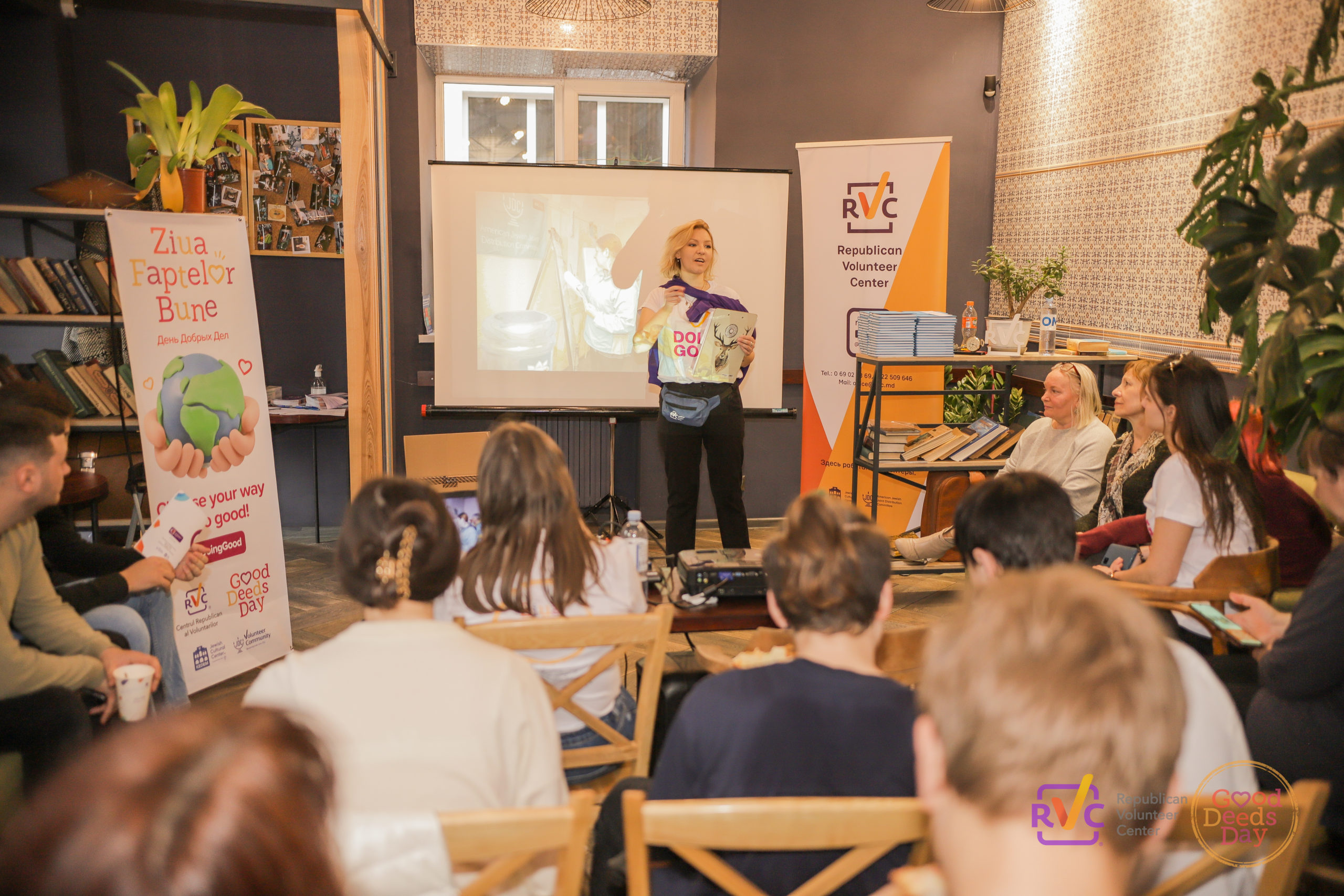 2022 PLANS
For more updates please click: https://rvc.md/den-dobryh-del-2022/
Download resources
KIT TO CREATE YOUR EVENT

English

MESSAGING
AND
PR KIT

Companies

GOOD DEEDS DAY LOGO

Companies

EDITABLE POSTER
(without text)

English

DOCX

FACEBOOK GRAPHIC TEMPLATE

English

HEART CARDBOARD CUTOUT

English

GOOD DEEDS DAY LOGO

Companies
show more