GOOD DEEDS DAY IN THE PHILIPPINES
Hands On Manila has been joining and celebrating Good Deeds Day for four years. The following implemented projects are as follows: 2017 GDD in Arroceros Park, 2018 GDD Coastal Clean-Up in Las Piñas–Parañaque Critical Habitat and Ecotourism Area, 2019 GDD Children's Carnival, and 2021 GDD Cook for Good.
Country Committee
Metro Manila, National Capital Region (NCR), Philippines
Jen Ferraren-Narvas

jen.ferraren @handsonmanila.org

Executive Director

Jeff Gallardo

jeff.gallardo @handsonmanila.org

Program Manager

Neddie Perez

neddie.perez @handsonmanila.org

Marketing Officer
MAIN ISSUES
Some of the main issues in our country are poverty, lack of nutritious food, and access to water. Hands-On Manila creates efforts through programs like Good Deeds Day, to foster partnerships and implement projects that will cater to the marginalized sectors like the street dwellers, in order for them to have access to nutritious food and safe water.
read more
SDG Focus
FEATURED PROJECT
Our Good Deeds Day – "Cook for Good"
Hands On Manila encouraged family volunteers to prepare and pack hot meals from their homes and have them delivered to the HOM office for the street dweller-beneficiaries of our partner organization, Arnold Janssen Kalinga Foundation (AJKFI). The AJKFI beneficiary volunteers, together with some HOM volunteers, also prepared and cooked meals for the street dwellers. They were also responsible for the meal distribution.
This was also made possible through some corporate donors – Far Eastern University and Insular Life, In-kind donor – Soap Cycling Philippines, GDD shirt sponsor – Tams Bookstore, and Youth-led partner organization – Baryanihan Movement and to our individual donors.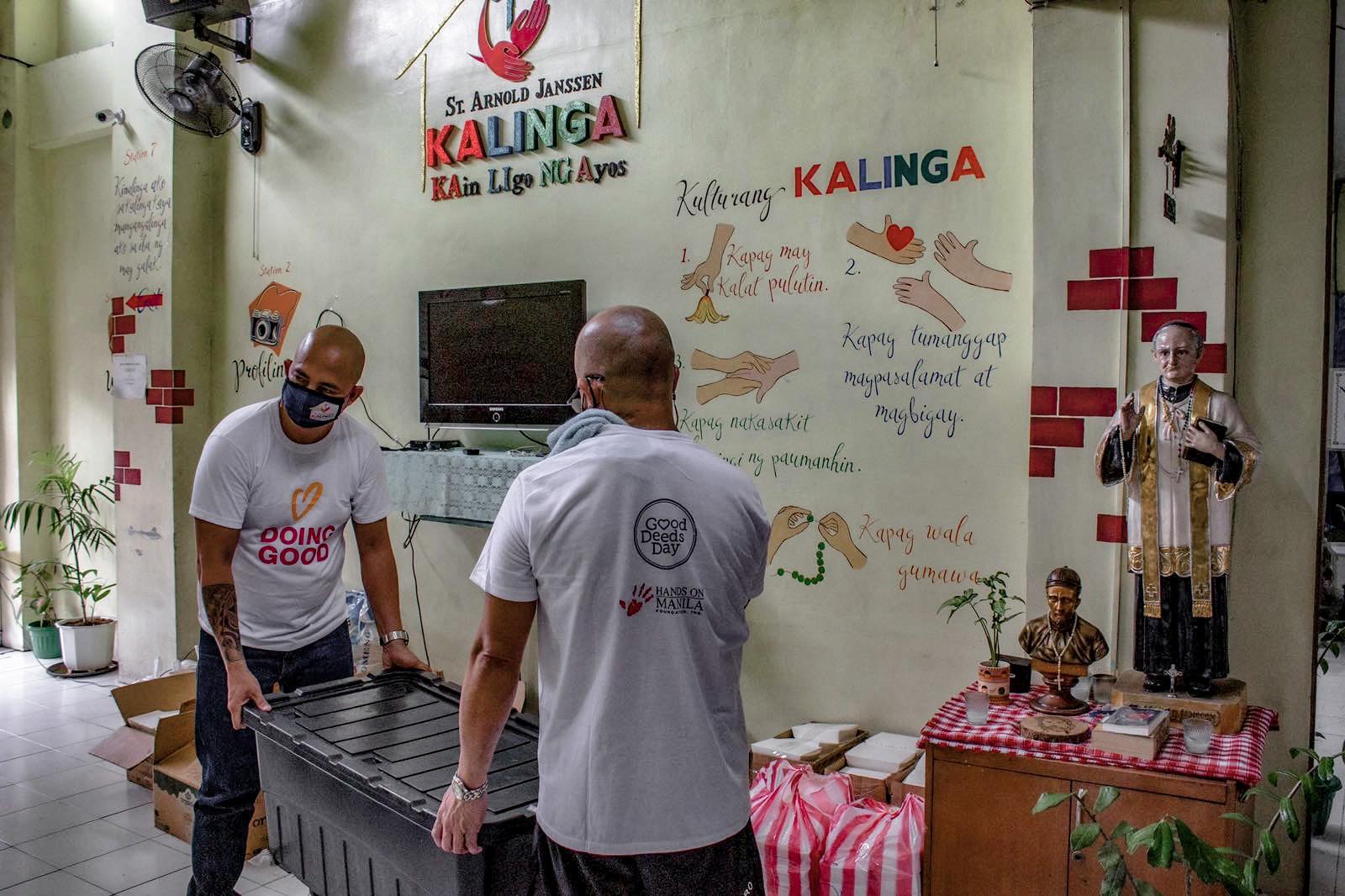 2022 PLANS
More updates to come!
Download resources
KIT TO CREATE YOUR EVENT

English

MESSAGING
AND
PR KIT

Companies

GOOD DEEDS DAY LOGO

Companies

PNG

EDITABLE POSTER
(without text)

English

DOCX

HEART CARDBOARD CUTOUT

English

FACEBOOK GRAPHIC
SAVE THE DATE

English

PNG
show more