GOOD DEEDS DAY IN CAMEROON
Cameroon learned about Good Deeds Day in 2017 after attending GDD's second regional conference in Kenya. Cameroon decided to launch its own network in 2019 and since then they have been coordinating activities of Good Deed Day in Cameroon and operate in four regions, with a goal is to expand to all the 10 Regions of Cameroon by 2025.
Country Committee
Myango Mekoi Nenne Dinna

nennecfdp2@gmail.com

Director of Operations and Programing at Open Field and Good Deeds Day Official Country Leader.

Rev. Saibo Lamsin Nakeka

saibolamsin@gmail.com

Spiritual Adviser and Coordinator: Central Region.

Itoe Henry Itoe

itoehenry@gmail.com

Fundraising Leader and Coordinator: Douala Town in the littoral Region.

Ambe michael Ngwa

gbtwcam@gmail.com

Coordinator: Limbe Town in the Southwest Region.

Butum Ginyoh

bcleophasginyoh@gmail.com

Coordinator: Buea Town Southwest Region.

Divine Kowa

divinekowa@gmail.com

Communications Coordinator: Kumba town in the Southwest Region.

Misody Ruth

m2_ruth@yahoo.com

Coordinator: Bamenda Town in the Northwest Region

Etoh kingsly Etoh

etohkingsly@gmail.com

Project Coordinator: Kumba in the Southwest Region

Anang Chrsty Ijang

christynash2001@yahoo.com

Secretary and Publicity

Ngoe Lobe Wallace

lobengoeh@gmail.com

Sports Coordinator

Ashu Abunau Takang

Ashuabunau5@gmail.com

CT Aid Data Analysis Coordinator

Akom Caroline Sah

Carolinecfdp@gmai.com

Finance Coordinator
MAIN ISSUES
Our country is faced with a serious crisis in the Anglophone Regions. This crisis has caused a lot of suffering to most of the population who are now internally displaced because of the war. Most of our projects are focused on internally displaced persons especially nursing mothers who are taking refuge in orphanages with their children. We give them food and local first Aid medications. we also extend our efforts to inmates in prisons who are living under deplorable conditions.
read more
SDG FOCUS
FEATURED PROJECT
Good Deeds Day Cameroon visited inmates in the Kumba Central Prison and created a Good Deeds Day club and organized a soccer match amongst the female inmates.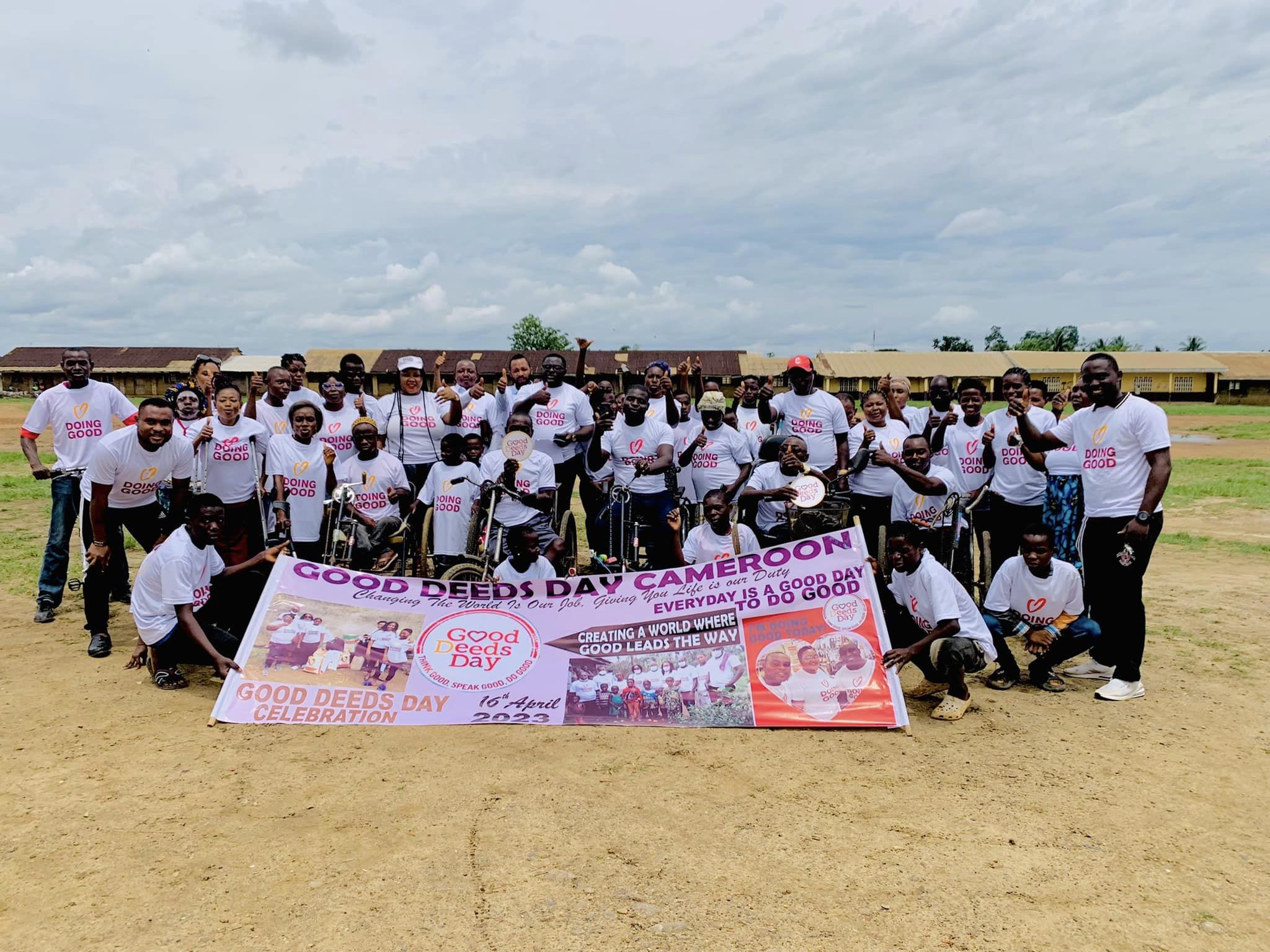 2023 PLANS
More updates to come!
Downloads
GOOD DEEDS DAY LOGO

Companies

PNG

COVER PHOTO TEMPLATE AF

Angola-Português

PNG

DOCX

KIT FOR ORGANIZATIONS (AFRICA)

English

KIT FOR EVENTS (AFRICA)

English

MESSAGING AND PR KIT (AFRICA)

English

HEART CARDBOARD CUTOUT

English
show more