GOOD DEEDS DAY IN THE DEMOCRATIC REPUBLIC OF CONGO
Congo was introduced to Good Deeds Day during the IAVE African Regional Conference on Volunteering held in Kigali, Rwanda in June 2015. Mr. Gilbert Mugisho Kakira who represented volunteers from the Democratic Republic of Congo at this conference grouped together with the National Coalition of Volunteer Organizations for Sustainable Development, and some leaders of volunteer organizations in Kinshasa to talk about Good Deeds Day and plan its first celebration, in 2016, in the Democratic Republic of Congo.
Every year, to the day, this global movement of volunteers committed to doing good for others and for the environment is spreading good in several cities of the Democratic Republic of Congo. The year 2021 is special because Congo celebrated Good Deeds Day in several villages. 14 organizations in the provinces of Kwilu and Kasai Central joined this global initiative and are committed to promoting Good Deeds Day in these regions.
To improve the participation of volunteer organizations to promote Good Deeds Day in the Democratic Republic of Congo, we set up, in December 2020, a platform called: "Good Deeds Day Congo DRC Network". This platform today brings together volunteers and volunteer organizations from 11 provinces of the DRC and has put in place a strategy to celebrate GDD in more than 30 cities of the DRC.
Country Committee
Good Deeds Day DRC Network
Gilbert Mugisho Kakira

gdd.congodrc.network@gmail.com

Coordinator: National Coalition of Volunteer Organizations for Sustainable Development (CNOVD) and Good Deeds Day Congo DRC Network.

Mr. Richard Kiese

ape_asbl@yahoo.fr

Human Resources: President of the Association for the Protection of the Environment (APE).

Mr. Pepe Kifu Mupepe

pepekifu@gmail.com

Focal Point North and Congo Central: Coordinates and supports organizations in the execution of their programs.

Miss. Laetitia Monitadila Monique

centrepaysan.dh@gmail.com

Communications: Ensures internal and external communication, production of communication tools, and contact with the press.

Ms. Sarha Kongolo

jeunessedumonderdc20@gmail.com

Mobilization Officer: Ensures awareness, and mobilization of volunteers.

Mr. Axel Mawa

axelmawa@yahoo.fr

Training officer: Plans training and capacity building for volunteers.

Jean Louis Ipumi

beccbusiness1@gmail.com

Focal Point Ouest: Promotes GDD in Grand Bandundu.

Mlle Therezia Kasau

thereziakasau@gmail.com

Public Relations and Sponsorship Officer: Plans and coordinates the collection of funds and materials for GDD.

Mr. Christophe Bendera

abmasblrdc00243@gmail.com

National Executive Secretary of ABM: Responsible for contacting organizations and NGOs.

Miss. Celine Ilunga Kabangele

moreso.rdc@gmail.com

Coordinator: Promotes Good Deeds Day in the Kasai province.

Mr. Nhono Mafuta Elita

mafutaelita @ gmail..com

Coordinator: Promotes Good Deeds Day in the Kwilu province.

Mr. Patrick Nsamba

upendohumanity@gmail.com

President of Upendo Humanity (UPH): Promotes Good Deeds Day in the South.
MAIN ISSUES
The Democratic Republic of Congo (DRC) is a large and country located in the heart of Africa. This country spoiled by nature has rich and diversified natural resources, however, its population lives in extreme poverty faced with serious problems; such as access to drinking water, electricity, education, primary health care, and decent housing. The populations, especially children, are also confronted with malnutrition, and exposed to infectious diseases because of the insalubrity environment in our towns and villages.
In addition, the country is going through the most controversial period of its political, economic, and social history. The DRC is confronted with difficult situations, a lack of resources, environmental degradation, and an increasing number of people displaced by wars.
The COVID-19 pandemic has just accentuated the existing economic and social crisis, leaving behind its share of problems in an already excessively impoverished population. Congo is also facing a natural disaster in the city of Goma, the capital of the province of North Kivu, volcanic eruptions and repeated earthquakes cause a high death rate of humans and animals and a humanitarian crisis causing massive displacement of the population, and destroyed infrastructure.
The population is stuck with the daily problem of unsanitary conditions in the cities due to exposure to all kinds of pollution and diseases. The Democratic Republic of Congo pushes to act individually and/or collectively, every day to do good deeds, in order to reduce the vulnerability of the population, to restore joy to the underprivileged, especially children, pregnant women, the elderly, people living with disabilities, and people displaced due to war and other natural disasters.
read more
SDG Focus
FEATURED PROJECT
The project was initiated on Good Deeds Day 2021, as part of "30 days of good deeds in the DRC," three organizations, Association for Global Welfare (ABM), Terre d'Amani pour Enfant du monde (TAEM), and the CNOVD worked together to share a small lunch with 60 orphaned children housed in the "Third World Land" orphanage. After breakfast, we organized a series of activities where the children showed their singing, dancing talents and recited poems.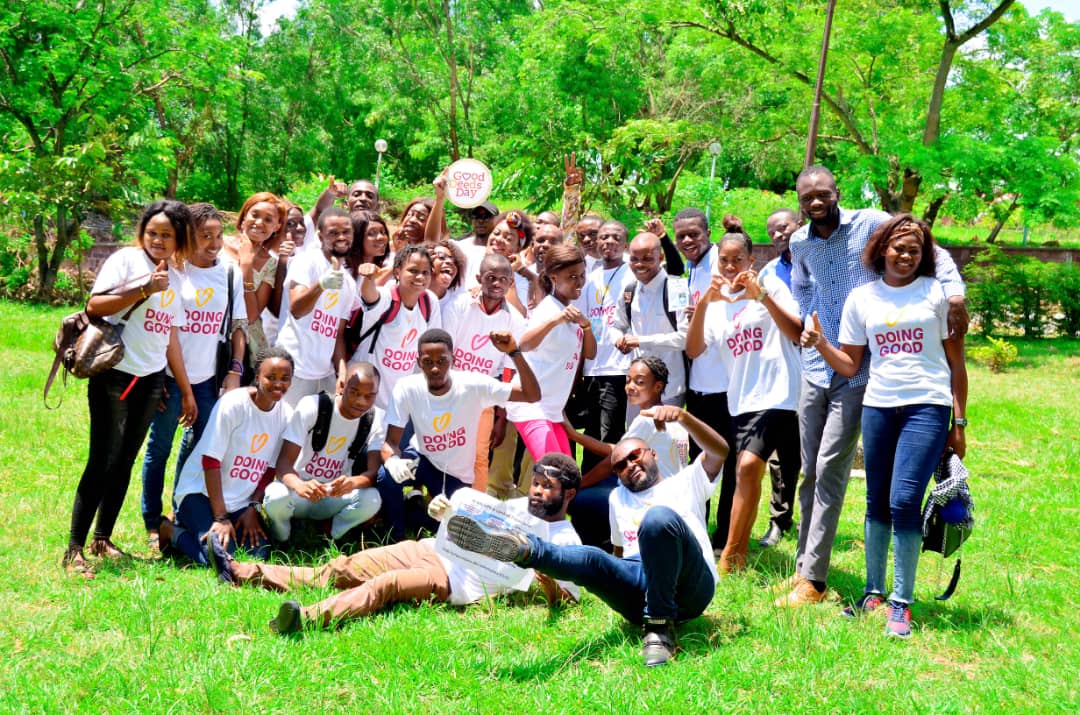 2022 PLANS
More updates to come!
Downloads
GOOD DEEDS DAY LOGO

Companies

PNG

COVER PHOTO TEMPLATE AF

Angola-Português

PNG

DOCX

KIT FOR EVENTS (AFRICA)

English

KIT FOR ORGANIZATIONS (AFRICA)

English

MESSAGING AND PR KIT (AFRICA)

English

HEART CARDBOARD CUTOUT

English
show more