GOOD DEEDS DAY IN UGANDA
Uganda has been celebrating GDD since 2016. Change African Child International and Basu Community Rural Development Organization in Uganda are working together with the GDD Uganda network. The network has engaged many different civil society organizations (CSO), companies, and individual community volunteers in participating and organizing different GDD events. This year in the month of April 2021 the network organized 3 big events in different districts of Kampala and Lira. Each year over 160 organizations register to get involved in doing good in different districts of the country and in different projects related to SDGs as a contribution to the social, economic, health, and environmental development of our country.
Get involved!
Central, Eastern, Southern, and Northern
GDD Leaders:
Resty Kezabu Mutaawe
Western
GDD Leaders:
Eugene Bwambale Africano
Organizing Committee
Central, Eastern and Southern Uganda
Resty Mutaawe Kezabu

info@cacinternational.org

Director: Change African Child International and Good Deeds Day Country Leader and Mobilizer.

Kiggundu Joseph

jkiggss@yahoo.co.uk,

GDD Coordinator: Responsible for coordinating national GDD events.

Sseruwagi Monday Patrick

iam_uganda@yahoo.com

Director: Responsible for documentation of GDD projects, recording meetings, designing GDD materials.

Magayane Jacqueline

jaqulynnth@gmail.com

Administrator at SBI holdings: Good Deeds Day Treasurer

Jolly Jessy Ogwang

jollyjessyogwanga@gmail.com

Works with Center for Law and Peace Uganda, GDD committee, and mobilizes organizations in the north.

Mwesige Ahamed Sulyman

mwesigeug@gmail.com,

Director: Potters' Heart Child Foundation.

Kinayenzire Irene

kinayrene@gmail.com

Director: Hands of Grace Organization.

Natukunda Irene Kananura

natukundairene01@gmail.com

Represents youth, and works with adoption in Uganda.

Ruth Wakaalo

bkruth13@gmail.com

Director: NAPHASH.

Mugisha Derrick Emmanuel

mugishaderrickemmanuel@gmail.com

Works with Biodiversity network.
Western and Northern Uganda
Eugene Bwambale Africano

bwambale1974@gmail.com

Director Bacorudo GDD Leader western and Northern Region Implements Good Deeds Day's activities/programs in the Western region.

Sunday Geofrey

kascsg@gmail.com

Director - Kascsg Assistant Coordinator: Assists in the execution of Good Deeds Day activities.

Kule Andrew

kuuleand@gmail.com

Secretary: Writes and keeps records for Good Deeds Day western region.

Katuramu John

katuramujohn969@gmail.com

Vice Secretary: Assists the Secretary in recording sessions.

Evalyne Arinaitwe

evalynarinaitwe@gmail.com

Treasurer: Ensures that funds are kept well and used well in conjunction with the whole team.

Hon. Augustine Babuza

kisemboag@gmail.com

ASS.LC5 Chairperson Kabarole District Chief Mobilizer: Ensures the active participation of each member.

Birunji Meresi Biira

office.orgbacorudo@gmail.com

Healthcare: Responsible for health and Sanitation in all Good Deeds Day activities.

Hon. Tumwine Robert

District Councillor Bukuku Sub county Kabarole District Assistant Mobilizer and Fundraising

Hon. Ithungu Jetress

kiwedejetress9@gmail.com

Ass.LC5 Chairperson Kasese District Committee Member

Baguma Francis

Mobilizer
baafricafo@gmail.com
MAIN ISSUES
Central, Eastern, Southern, and Northern Uganda
Uganda is highly vulnerable to climate change –  its economy and the well being of the people are tightly bound to climate therefore climate change is likely to mean increased food insecurity, shifts in the spread of diseases like malaria, floods, damage of infrastructures, and settlements, soil erosion, and shifts in the productivity of agricultural and natural resources. It will be the poor and vulnerable who will feel these impacts so it is important that the communities will need the government, NGO's and social corporate intervention to resolve some of these mentioned impacts caused by climate changes. Therefore issues like poverty, hunger, health and wellbeing, education challenges, and climate action have always called the attention of different sectors to resolve them.
Western Uganda
This region is focusing on reducing poverty. This is a call to every Ugandan to engage in economic activities. Improvement of Agriculture as a way to fight hunger is at the forefront, quality education is being geared by the Ugandans and in our Good Deeds Day programs this year we are trying to have very many educational institutions get involved in doing good. A healthy mind in a healthy body, to do good one must be healthy, we are promoting health and well-being as well.
read more
SDG FOCUS
FEATURED PROJECT
Central, Eastern, Southern, and Northern Uganda
Health camp in Lweza- Kampala held on 17 April 2021.
Western Uganda
More updates to come.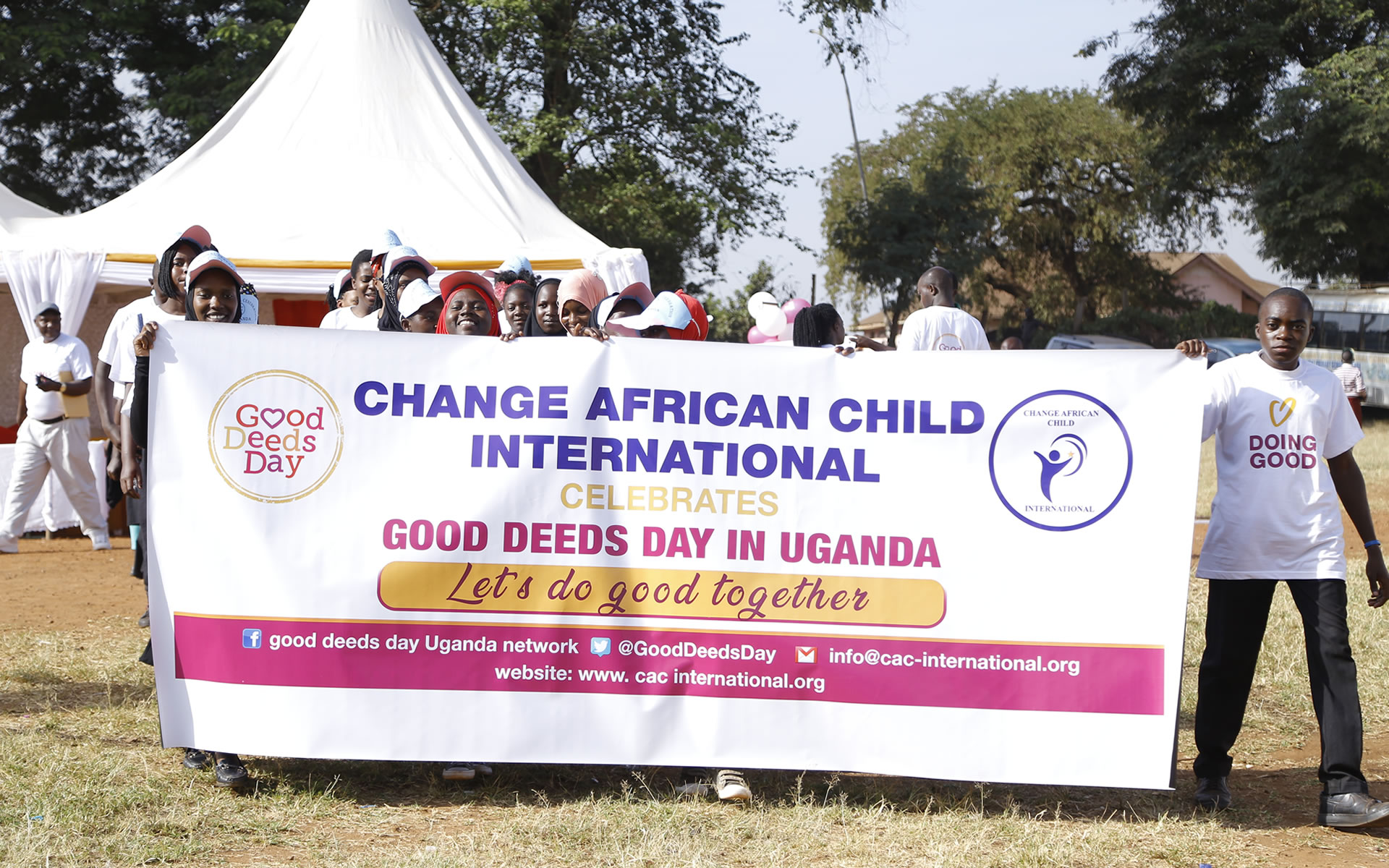 2022 PLANS
More updates to come!
Download Resources
GOOD DEEDS DAY LOGO

Companies

PNG

COVER PHOTO TEMPLATE AF

Angola-Português

PNG

DOCX

KIT FOR ORGANIZATIONS (AFRICA)

English

KIT FOR EVENTS (AFRICA)

English

MESSAGING AND PR KIT (AFRICA)

English

HEART CARDBOARD CUTOUT

English
show more