Even in these challenging times, good deeds are still happening all over the world. Our partners from around the globe are taking part in Good Deeds Day right from their own home. They offer innovative ideas during these troubling times to keep their communities positive and safe. Here are 15 ideas you can copy to do good in your own community!
1. Lead an Online Seminar 
Grafting, our partners in Tokyo, Japan, are hosting an online seminar dedicated to learning about the SDG's and United Nations Advocacy. We can do good no matter what kind of trials and tribulations come our way! Host an online seminar and invite community leaders to join in.
2. Distribute Hand Sanitizer 
Our partners in Limbe, Cameroon at the NGO Green and Better World will distribute hand sanitizers to their community to prevent the spread and contamination of Covid-19. They will also add the Good Deeds Day logo sticker on each container to spread some good vibes!
3. Talk to Children About COVID-19
In Nouvelle France, Mauritius, Halley Movement created an initiative called Helpline Mauritius that provides online counseling to youth and will be sharing tips to parents and caregivers working with children. Keep your children safe with these 4 tips.
4. Join The EUJS Web Session Series
The European Union of Jewish Students wants to bring the warmness of their community to each one of your homes. The EUJS will bring different programs, webinars, and online gatherings every week hosted by EUJS and their partners.
5. Share Your Good Deed
Every day Hillel Israel will highlight a Hillel from somewhere around the world and their project from Good Deeds Day 2019, then share a fun fact about the Jewish community in that region!
6. Make Liquid Soap
Widows Empowerment for Life program, a part of the Mordecai Care Foundation of Nigeria, trained 45 women how to make liquid soap for the village, Mooro. So far 50 liquid bottles were distributed to all the women.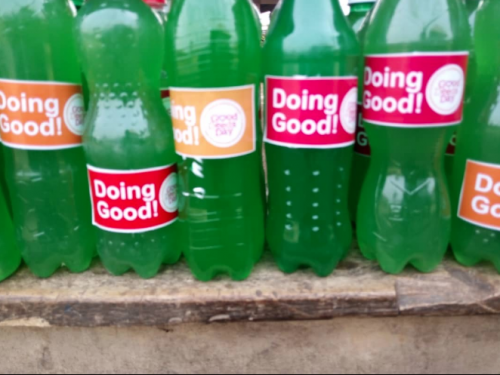 7. Virtual Volunteer
Volunteer New York! launched a virtual volunteer center to aid communities and those most affected by Covid-19. Coordinating with local non profits, county and state officials, the VVC will ensure Covid response and recovery volunteer opportunities. If you're in the area, check out the list above and choose a project that resonates with you.
8. Free Computer Services
Charity Centre for Children and Youth Development in Solwezi, Zambia, will be providing free computer services and internet to vulnerable children and college students. This will help students access online books for their assignments as well as promote access to I.C.T materials and social media interaction.
9. Prevention Against Covid-19
Good Deeds Day Sierra Leone is launching a campaign to educate their community about how to prevent Covid-19, sharing information about what symptoms to expect and how to avoid transmission.
10. Create Ecobricks 
Our partners in Argentina are encouraging people to create ecobricks at home and then give to organizations to use for construction. All you need is a plastic bottle and trash! Watch this video for instructions!
11. Educate About Health and Personal Hygiene 
The Church of the Consecrated Disciples of Christ in Ibaden, Nigeria encouraged positive use of the Internet to the youth in their community by hosting a health talk on COVID-19 and personal hygiene.
12. Clean and Disinfect Surfaces
In Lahore Pakistan, our partners Khidmatgaar are reminding everyone to wash their hands and clean and disinfect surfaces regularly in their campaign to reduce the risk of Covid-19.
13. #SpreadKindnessNotTheVirus
Nest4Us in Ashburn, Virginia packaged food for the children in their community and are joining the Good Deeds Day Virtual Kindness challenge to do good for others: post a picture or video about what kindness means to you, or something nice for a family member!
14. Donate Books
The Youth to Youth Empowerment Network, Good Deeds Day Malawi will donate books and other learning materials to the youth in their community, in order to encourage the spirit of reading in young people.
15. Avoid Contact 
Good Deeds Day Nicaragua will join the digital campaigns from around the world and educate people on how to prevent Covid-19 in their community by regularly washing your hands, avoiding contact with others and covering your mouth with your elbow when you cough or sneeze.
We want to hear more of what you are doing around the world! Send us your projects or ideas for March 29th to Info@good-deeds-day.org and then share your good deeds with us on our Good Deeds Map!
Scroll Down
TAKE PART IN GOOD DEEDS DAY
Skip to content