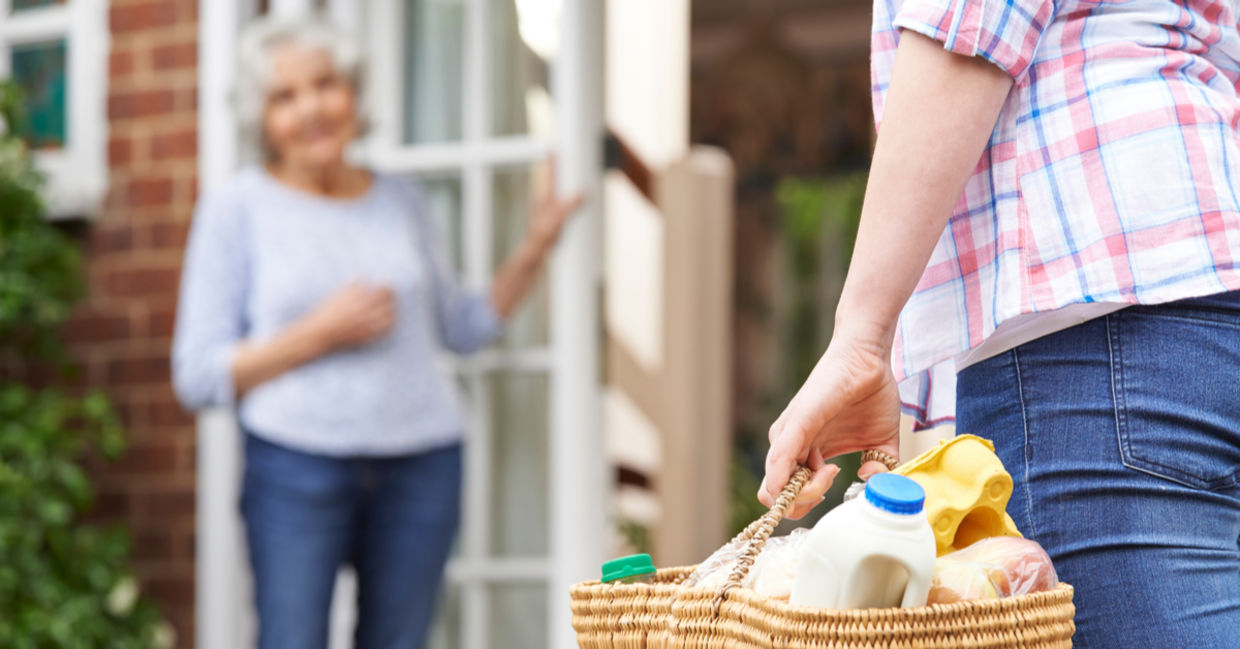 Around the globe, people are stepping-up to help their neighbors. These acts of kindness range from getting the most vulnerable people who are elderly or infirm coronavirus supplies of wipes and sanitizers, to bringing groceries to people who absolutely cannot leave their homes, all the way to walking dogs for people who are quarantined.
In Edinburgh Scotland, the owner of a small shop has given his elderly neighbors free survival packs which include such essentials as one package of toilet paper, anti-bacterial handwash, tissues and one box of paracetamol according to Edinburgh News.
The packs are available to anyone aged 65 and up and to people who have mobility issues. But anyone who cannot pick up their pack will have them delivered to their homes just by calling the store.
Zahid Iqbal, who runs Day-Today convenience store told the Edinburgh News that the idea came to him when he was helping his elderly parents shop at a local supermarket that had many empty shelves. The stores in Edinburgh were being emptied out by panic buying as the cases of Covid-19 started to rise.
"All the youngsters are picking stuff up and the older ones are being left out," he said. "We have lots of customers from the local care homes, as well as disabled customers, who can't get hand sanitizers, loo rolls or anything at all. We just want to set a good example in this world."
The store handed out 550 packs in just 24 hours after a Facebook post went viral. Iqbal said the post was viewed over 800,000 times. Day-Today has been inundated with requests and has already spent £5000 ($6,116) to make them but the owner seems to take this in stride.
Iqbal said, "Money can be made in the future… Right now, we need to do our part for the community. We want to help out for as long as we can manage and everybody needs to be doing their bit."
Across the pond in Bend Oregon, an elderly couple in their 80s drive to a local supermarket but are afraid to go in according to 7 News. They waited in their car for 45 minutes unsure what to do. They asked a passer-by, Rebecca Mehra, a 25-year-old professional runner from Oregon if she would buy their groceries for them and she did.
Mehra told 7 News that she was walking into the store when the couple called to her from their car. "She said, 'Well, I'm afraid. The first case of coronavirus in Bend just happened… and I'm nervous to go in the store. My husband and I are worried because it's disproportionately affecting older people. Would you be willing to buy my groceries for me?'" Mehra said.
The elderly woman handed her $100 and a grocery lit through the slightly open car window. "Without thinking, I took it and walked in the store and bought the groceries and walked them out and gave them to her," Mehra said.
Rebecca Mehra bought groceries for an elderly couple who said they were afraid to go into the store because of the coronavirus.

"Kindness helps," she says. "…If someone can't get basic essentials, reach out to them." https://t.co/AsVw22bxYw pic.twitter.com/wnZRB65klu

— CNN (@CNN) March 14, 2020
Mehra has now taken to twitter encouraging other people to reach out to people in their communities who need some help as the coronavirus continues to cause challenges.
"Look out for your neighbors. Look out for the other folks in your community. It's a difficult time. People are really scared… but kindness helps. Be kind to your neighbor," Mehra told CNN.
In the UK, Becky Wass from Cornwell created a postcard that said: "Hello! If you are self-isolating, I can help," with a place for people to fill out their details and what they needed help with like shopping, running errands or just someone to talk to according to CNBC.
Everyone can do their part just by looking after family members, neighbors and people in your community that you haven't met yet. Together, we can make acts of kindness go viral around the world.
This article was originally published on Goodnet and appears here with permission.